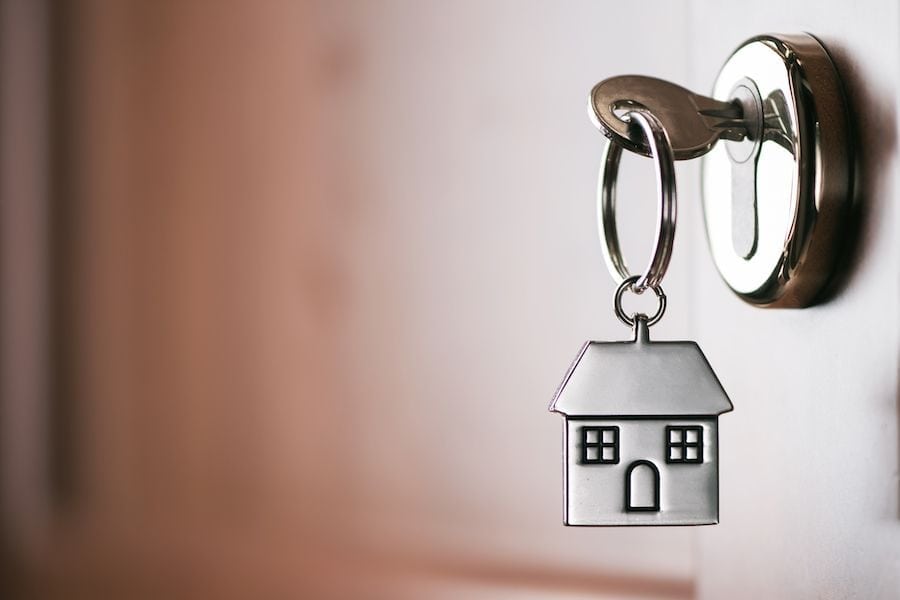 It's just about that time of year when you'll be shoveling snow, sitting by the fire, and trying to keep warm during another cold winter here in Boston. Plan ahead so you can focus on protecting yourself and your home while also maximizing your level of indoor comfort.
When it comes to your safety and comfort, there isn't a more committed or caring team than our professionals here at Action Lock & Key to turn to for help. You should not have to constantly worry about your safety or the safety of your Massachusetts home.
With an eye toward the holidays, here is our expert advice on increasing your home security this winter:
1. Add more outdoor lighting.
Spotlights, floodlights, garden lights, patio lights, and motion sensor lights can help deter criminals from breaking into and burglarizing your home. The more lighting you add, the brighter your home will be—and the more visible trespassers and potential intruders will become.

You'll also be able to see the pathway from your vehicle or driveway to your front door more clearly, which can help you be more aware of any unusual or suspicious activity. Then, you can act accordingly, especially when you're arriving home late at night.

2. Install an alarm system.
There's nothing like the safety and protection offered by a home security system. Add an alarm system to your home so you will be notified of any suspicious entry into your home during the day, evening, or when you're away.
3. Add a carbon monoxide (CO) detector to your home.
Install a carbon monoxide detector to keep aware of any presence of this harmful and potentially fatal gas anywhere inside your home.

The Centers for Disease Control and Prevention (CDC) reports more carbon monoxide issues occur during colder seasons like winter and fall since gas furnaces and heaters are more frequently used during these seasons.
Since you'll be using your heating system more often, you'll want to be sure you can easily detect any problems like a carbon monoxide leak, especially if your system malfunctions.

4. Ensure your windows and doors are locked.
Always lock the windows and doors inside your home to prevent easy entry for unwanted guests, especially at night. The same applies to your car—roll the windows up and lock all of the doors. The more difficult it is to get inside your home or vehicle, the less likely a criminal is to try to get inside.

Be sure to check that your windows and doors can lock correctly. If you discover any broken locks, have them repaired and replaced as soon as possible—otherwise, you leave yourself and your home vulnerable.

5. Be cautious of unexpected visitors.
If your front door has a peephole, be sure to look and see who is knocking or ringing your front doorbell before opening the door. You could also check any front entrance camera footage to ensure you know who is visiting. These are great ways to screen individuals before getting too close or letting them see the inside of your home.

Salesmen often go door-to-door throughout neighborhoods, so if you're uncomfortable with this or hesitant to open the door for strangers, place a "No Solicitation" sign outside your front door.
6. Clear walkways, stepping stones, and stairs.
Keep the front of your home clear from ice, snow, leaves, and debris. The last thing you need is to trip or slip before you ever set foot inside your home. Plus, you should always have a good view of your front entrance and property to ensure there is nothing unusual going on.
7. Prepare your home if you're planning on traveling.
Take a few precautions before leaving on vacation. If you don't plan ahead, you'll make it obvious you're away, leaving your home susceptible to a break-in. Be careful who you share your vacation plans with, and don't mention you'll be away on social media. You may be tempted to share how much fun you'll be having, but you make your home a target when you publicly share that you're not home.

Be sure to temporarily stop your mail so that it does not pile up in your mailbox, and put some of your lights on a timer so that it looks like you or someone else is present in your home during certain times of the day. You can also install interior and exterior cameras and view footage for peace of mind.
8. Move packages inside as soon as possible.
Once a package arrives, bring it inside your home. If you know you won't be home for a while or will be traveling, consider asking a family member, friend, or neighbor to hold onto it for you, especially if it is an expensive item.

Be discreet about any large ticket items you purchase. When breaking down boxes and leaving them out front on recycling days, fold or hide any sides with pictures or information that reveals what product arrived in the box.
9. Prepare for storms, power outages, and natural disasters by purchasing a generator.
Invest in a generator to avoid being without power during a severe storm, surge, or unexpected outage. Doing so will allow you to have some electricity in your home so you can keep your house alarm and lights on, cook, and stay warm with the help of your heating, ventilation, and air conditioning (HVAC) system. Many whole-home generators require propane and natural gas to operate, so be sure to have these on hand when needed and store them safely.
10. Park your car in your garage.
Clean out your garage and make enough space, so you always have the option of parking your vehicle inside. Not only will this help protect your vehicle from break-ins and theft, but it will also keep your car from getting covered in snow after a storm and prevent it from freezing when the outdoor temperature drops.
Contact Our Professionals to Assist with Your Home Security Needs Today
Our Action Lock & Key professionals want you to feel safe inside your Boston, MA home every day of the year. Let our experts create the environment you've always wanted. Speak with our experts today by calling 781-229-9992 or request service online.